Soft Flex Beading Wire

Soft Flex Beading Wire is our beading wire of choice. 

It is a superior brand over other beading wires and the only wire we recommend for you, whether you are a beginner or beyond.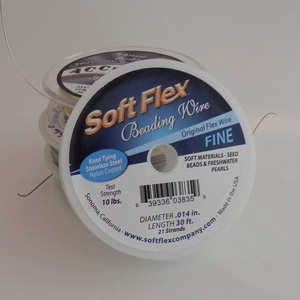 What makes it so special?

What makes it 'the one' to use over other brands.

That's what we will be discussing.
It is my intent to convince you by the end why it should be your choice too.
Is it 100% proof?
Almost, there are always exceptions to the rules.
But this is by far a higher grade of wire with almost little to no breakage.
Soft Flex beading wire is the wire I use for all jewelry making classes I conduct and all of my own projects. I rarely use anything else for basic stringing.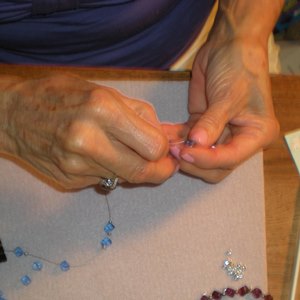 We discussed beading wire here, looking at 4 main questions to consider.
What is Flexible Beading Wire?
How Are They Different?
Why Beading Wire vs. Other Stringing Materials?
Which Beading Wire Should I Buy?
I encourage you to visit there first to review.
It will help as you continue reading this page and it will help you understand why I am adamant about this product.
But now it's time to get to the nitty-gritty about Soft Flex Beading Wire specifically.
I am sharing with you, below, the words from the Co-owner and Co-founder of The Soft Flex Beading Company, Mike Sherman.

He explains to us, in his own words, how this super product came about and goes on to share in the other videos all the points of why this is a superior product.

It's not just his words that base my opinion, my opinion was already formed long before these videos were ever created.
No...my opinion comes from my first hand experience from my earliest days by what has driven me to be a 'Soft Flex Beading Wire' user...
Exclusively!
I encourage you to take a moment and listen to what he has to share, you will be glad you did.
I have listed all the reasons that I personally find this a grade A+ product with each video that addresses what I already knew from personal experience and have added a few that I didn't know but I know now. 
Made by Beaders for Beaders
Non-Abrasive
Low Breakage
High Quality at Affordable Price
Quality Product
Strong and Durable
Designer Grade
Marine Grade...can be worn in both salt and fresh water
Made in U.S.A.
Recyclable
Quality of Stainless Steel
Quality Consistance
'Human Hand' Tested Quality Control
Flexible Soft Draping
Conforms to Body Curves and Angles
Supple For Knotting
Resist Kinking
Flexible Enough for Weaving
Variety in Selections
Available in 3 Diameters, 23 Colors
Consistence Through-Out the Wire
WOW!
If that isn't enough to convince you then....?
There really isn't anything I can add to this. From Mike's words and from my own 13 years of experience using this product there is nothing else left to say.
Except that you need to be using this product too. 
Start your projects with the 21-strand, .014 diameter in the beginning.


As you get more comfortable and if you should have heavier projects then use the 49-strand, .019 diameter for the added strength.

Click on the picture to take you to purchase it now through Amazon(dot)com 
Or follow this link to take you directly so you can get your spool of Soft Flex Beading Wire on it's way to you now.
If you need just a bit more persuasion then here are a few other reasons you should be using Soft Flex Beading Wire:
Eliminates frustration for the beginner from the beginning.
It's a designer grade product.
Will allow you to stand out from the others.
Quality assurance so that you can stand behind your own products
Charge a higher price knowing you offer a higher quality product.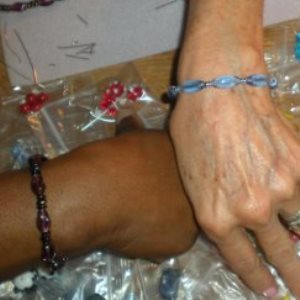 We have been there and done that and want to support you in your journey.
There is enough to learn in how to make jewelry, you don't need to be guessing with your jewelry supplies as well.

Let this be your first step in eliminating the frustration by adding to your arsenal of jewelry making supplies...Soft Flex Beading Wire.
Here are some additional informational sheets directly from the Soft Flex Beading Company that may help you find more.
Now, let me leave you with this last beading tip...

Beading Tip:

Not all beading wire is created equal.

Soft Flex Beading Wire is 'the' beading wire of choice for designer grade jewelry.

You get what you pay for so don't settle for less quality to save a few pennies. It will save you the heartache in the end.

PSST...I share from years of experience.
If you are a beginning beader and are frustrated with not knowing the right stuff to use to get you started then let this one tidbit of information be your guide to eliminate which is the right beading wire to use.

I invite you to contact us if you are struggling with the process of getting started how to make jewelry.
We can help eliminate those beginning frustrations so that you have a smoother path in learning all there is in this vast ocean of product.
Contact us, we're here to help.