Beading For Beginners
Beading for beginners may feel like a journey of a thousand steps but reality is there are only a few steps to learn how to make beaded jewelry.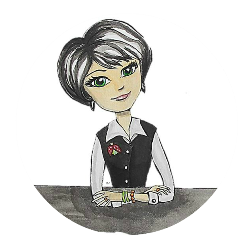 Here is where your journey begins.

There are 3 things I want you to keep in mind as you begin this process.
I call this my 1, 2, 3 method.
With 1 person in mind [you, the beginner], we will be unfolding 2 very simple beading techniques using just 3 basic jewelers tools that will move you through the basics of beading jewelry.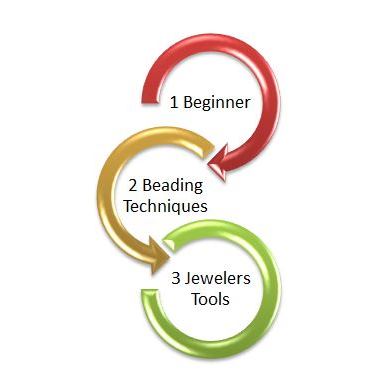 You will find this path the easiest way to get started with techniques, tools and beading tips needed project by project.

When you combine that with learning each of the beading supplies for each project you will be on your way to your first beading for beginners projects in no time.
There is much more to learn - but if you follow the path laid out here the basics will anchor everything and it will make the transition easier as we move from project to project.
Just a Few Notes Before We Get Started
There are just a few things I want to touch on and share with you before you begin learning beading for beginners. These are thing I have learned along the way and things I have learned from others that have taken classes from me.
First, in order to stay on course and on task you must be cautious with...
Overcoming Confusion & Staying Focused
If you were in a classroom setting and I were your instructor then we would focus on just one topic, one project, covering all the information needed to complete that one project in a matter of two hours.
But we aren't.
Here you have the freedom to roam at will, bouncing from this topic to that topic.
Overcoming confusion and staying focused will be your task.
Take this in small segments following the steps provided for you.
Don't become so anxious to learn it all at once that it becomes too much.
I have tried to keep the 'beginning' section in an easy order for you to follow as though you were in a classroom with me. In the end it's up to you how you process this.

To help with this I have created a 'step by step guide' to lead you along this path. This guide will direct you in the order I prefer you to travel.

The guide is merely that...'a guide'.
In the end the path you take is ultimately up to you. This will just give you a suggested order of consuming information to get you to the end of each lesson in a more direct way. 
You can find the 'step by step guide' here.
I encourage you to stay focused, don't be distracted by the shiny objects. But if confusion sets in then step back and take a breath.
Go back, brief over the page and then begin again or set it down and walk away.
Come back to it with fresh eyes when you are ready.
Use the provided guide to keep you on track. Print the guide, make notes on it checking off each step, initial and date the page as you complete each project page.
Allow the step by step guide to be your friend and your road map.
That is the best advice I can offer you in the beginning..."focus on your path".
Re-reading any of the information can only reinforce what you have learned and the more you read the more familiar it will become to you.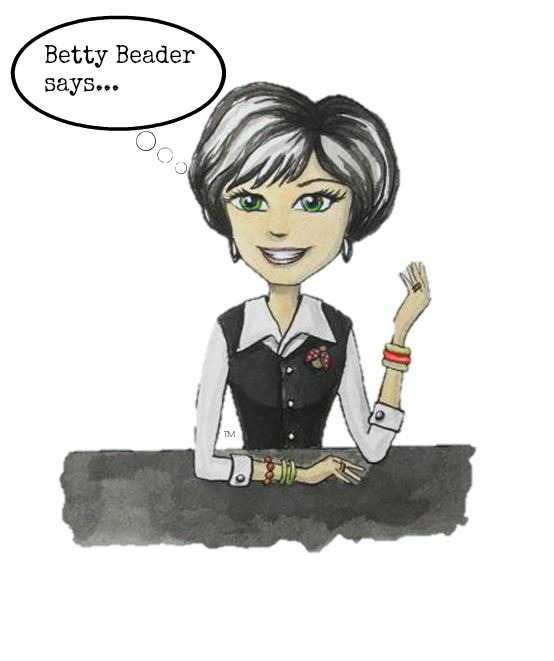 Beading Tip: 
Focus is key
Written notes help reinforce what you learn
If you come across something you don't understand along the way, write it down, make notes and contact me.
I've been where you are right now...in the beginning. We all learn differently and this is what has inspired this beading for beginners site. It's this process that made the most sense to evolve in the task of learning these skills. It's not rocket science but it can be as confusing without the right resources.
If you have a question come join the conversation at our FaceBook Group or contact me.
No question is too small or too silly or too anything, it's just a question.
Secondly, I want you to review the topic...

What is Beading?


When first considering learning how to make jewelry the big question I asked myself was...'What is beading?'.
As a beginner you must first have a clear picture of the type of beading you want to learn. We will look at the variety of 'beading' methods.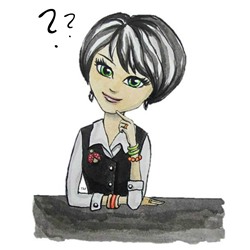 This is to give you an overview of just how many different styles and methods of beading there are. 
We all begin down this path with a different perspective and understanding of what's in our own mind. How do you know what you don't know?
You read a phrase like...'learn how to make beaded jewelry', you click on it - but it is not what you were expecting. You had a different thought and were looking for something totally different.
My own perspective before I began my own search was that 'beading' was stitching intricate detail on garments with teeny tiny seed beads, like what you may find on a wedding or evening gown.
That was not what I wanted. That was not the type of 'beading' I wanted to do.
So let's visit the topic and we will
break down
summarize
clarify
the differences in beading, providing a sharper picture for you so that you can be more intentional in your approach.
Thirdly, along the way you will be learning new...
New words, a new jargon in relation to beading jewelry, is a natural order of the process of learning anything new.  This will be your quick resource tool to help.
If you don't find the word listed there and you feel it should be, then by all means let me know. I appreciate the extra eyes.
Feel free to bookmark this page for a quick and easy reference. It will be a continuous work in process.
You must be anxious to get started in your own beading for beginners journey. Let's wrap this up allowing me leave you with this last thought.

Spread the Beading Bug...
Each person learns differently and at a different pace. One may pick this up in an instant, others it may take just a bit more.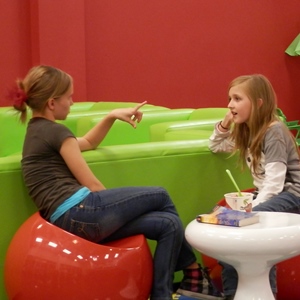 I share my own story of my 'bead'-ginnings and the obstacles I ran into.
I was a real slow learner mostly due to my circumstances at the time. But regardless, from that experience, I have tried to set this process for you to work through quickly and efficiently, more so than I did.
I hope that is what you find as well.
But...if you need a little extra support then let me leave you with my beginning tips.
It was my secret formula that encouraged me through the beginning...
The Bead Style Magazine was the beading for beginners magazine focusing exclusively on the beginner. It was my 'go to' magazine that I recommended to anyone just getting started.
Unfortunately it is no longer being published. It was in publication from 2005 til 2016 when they went digital.
The good news is that past publications of are still available and have been converted into 'Easy Beading' books which are sorted by volumes based on the year of the magazines publication.
This link here will take you directly to Amazon.com to view the assortment of volumes.
I would highly encourage you to give it a look and see what you think. Be aware this is an affiliate link and should you decide to purchase we will receive a small percentage of that sale at no additional cost to you.
[Thank you in advance if you should purchase, every little bit helps support our website.]
I personally have kept all my old publications for my beading library.

The other part of my secret formula that can also be found in my beading for beginners library is the...
Fire Mountain Gems Supply Catalog
The Fire Mountains Gem hard copy supply catalog is a wealth of info with pictures, examples and descriptions of beading supplies of every sort. I have a hard time letting go of old copies since I still refer to them for information. The catalogs are free and this link will take you directly to their website and you can order your very own copies and request to get on their mailing list so you don't miss a copy. But I warn you the pages are full of information and you will learn something from each and every catalog.
There are many other supply catalogs available but this was the one that caught my eye in the very beginning and for good reason and I share more about this discovery in 'my story'.
Okay, so now you know...but that's our little secret.
As you continue on, if at any time, you have found this site helpful then please pass it forward and help spread the beading bug.
Let's get busy learning some beading for beginners and let's make some 'bead'-utiful jewelry.
First, read 'What is Beading?' if you haven't already, then move straight over to begin understanding the basic jewelers tools [there are only 3 so it's a quick and digestible read] and start your step by step journey to learning beading for beginners.
See you there.