Beading Designs
Beading designs can be the most gratifying part of making jewelry. These pieces are your babies. The imagination and images from your mind's eye are what you give birth. 
Beading designs are what make you a 'handmade jewelry designer'. The designs and possible combinations are countless.

But...what if you don't see yourself as a jewelry designer?
What if you don't think you're creative?

What will you do for inspiration?

This may not be you, we are all different in the arena of creativity.
Several have come through my classes hitting the ground running with loads of beading design ideas before they even leave class.
Others just want to move onto learning the next technique, the next step and allow designing to come in it's own time. Understanding the concept and get a better grip of what they are doing is their goal.
I believe we are all creative in some way. When it comes to making jewelry there are those that like to just work with their hands, simulating other's creations.
And yet others have original ideas racing through their heads ready to give their ideas life.
Let's discuss it a little further here, jewelry making ideas and where to find the creativity.
Discover Your Creativity in Beading Designs
Discovering your creativity in beading designs begins with how you think, what your interests are and how you view fashion.

Let's focus for a moment on some key words to beading designs. These will help establish how to shape and mold your continuous task of creating. This makes for becoming a good handmade jewelry designer and provides a few guidelines to begin that trek.
Beading Designs
Patterns

Styles

Trends

Cost

Colors

Events

Beads
Let's talk just a bit about each of these to get your creative juices primed.
Beading Patterns
Beading patterns can be the start to all great beading designs. Creating beaded jewelry patterns is the combinations of beads and components.
There are 4 different types of patterns and an example of each.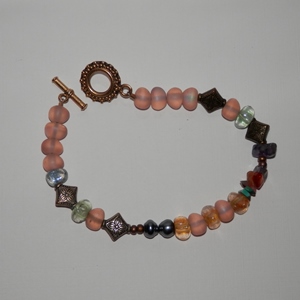 Random...Irregular, aimless, unpremeditated pattern.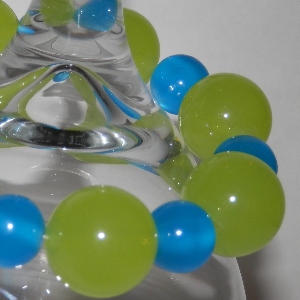 Repeat...A repetitive repetition pattern; large, small, large, small, large, small, etc. 
Symmetrical...A mirrored type pattern equaled in balance and proportion. Begin your design in the center and work each side identically.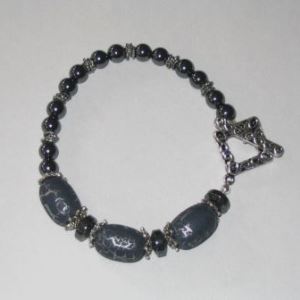 Asymmetric...An off center pattern. The focal point is moved off from the center for a disproportionate balance.
Bead combinations and materials are endless but these will be the basis to the start of your design. do you lean to one pattern more than another?
How will you differ with each piece you create?...Time will tell.
Jewelry Style
Are you a fashion guru?  Do you watch the trend in styles and change with the times? Are you influenced by what's being worn by celebrities or are you more of a 'your own style' type of person?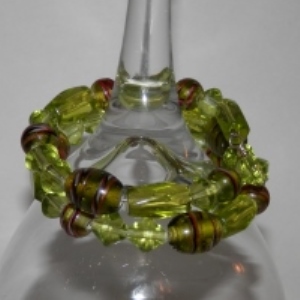 Style is a very personal mode of fashion.  It speaks to what that person is about and their taste in fashion.  Styles are used as expressing oneself and the genre one likes to exude.  
Styles can be classic and simple, big and bold, brass and sassy, fun and festive, chic or funky, current or retro.  
Varieties, options, choices and interest are all factors played in your taste of style. 
Style can also represent the type of jewelry you wear; i.e. hoop earrings vs. dangle earrings, both can be dressed up or dressed down depending on the event or occasion.
Consider style with your beading designs.
Fashion Trends
Trends go hand in hand with style but trends are changeable, whereas styles remain a constant.
We suggest that some trends of previous years seem to make a comeback and in turn become set styles.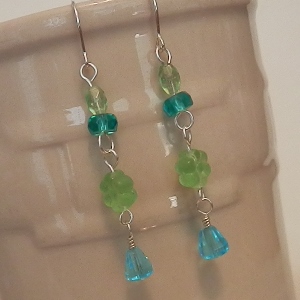 Trends come and go based on taste, crazes, fads, themes and moods.
What trends do you see today? 
Can you remember other trends from the past that still lend themselves to today's styles?
Do you have a trend you follow or like to wear?

Think of some of these as you begin to think of creating beading designs.

Canvas of Color
Color stimulates our senses.
When you think about creating a design do you think in color, is that where you like to start?
Do you have a favorite color or a least favorite color? Do you find specific colors exciting and alluring or boring and dull?
Colors speak to us, set our moods, lift our spirits or calm us down. Colors can make us hungry or subdue our appetites, make us happy or sad, confident or disinclined.
Did we say that color stimulates our senses? There are classes and studies and books and lectures on how colors affect our human senses.  There are charts on what moods and emotions color create in us.
Our birth months are represented by colored gemstones. Every school and sports team is represented by colors.  A change of seasons brings about a new palette of colors.
Color is all around us. We live with it and in it every day, with everything we do. For most, even our dreams are in color. Have you noticed that for yourself?
Colors are an important factor to designing beaded jewelry and may rule in your personal process of designing. 

A little video we thought you may find helpful on using a color wheel for beading designs and helping with your thought process.

How do you use color in your everyday life? How will you use color as you move forward beading designs?
Share your thoughts and comments with us.

Special Occasions or Events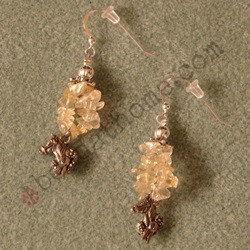 Designing jewelry based on a special occasion or event on your calendar can also play in this game of designing jewelry.
How much jewelry do you wear on a regular basis?
Does it depend on an event? 

What type of occasions do you attend that lends itself to wear jewelry; church, work, sports events, plays, the movies, dinner out or just every day?
What about when you are physically active? Do you wear jewelry working out in the yard, doing your laundry, exercising, swimming or maybe playing sports?

The style of jewelry worn may depend on the occasion as well.

The earrings pictured here were created to be door prizes for a KY Derby party. The citrine chip beads were designed to represent the infamous mint julep drink which the KY Derby is well known for, but that is another story for another day.
When designing jewelry based on events, a bracelet may be designed to go with that little black dress but still lend itself to the jeans and jacket event.
Keep the occasion in mind as you begin to gather the components to create that jewelry design that speaks to the event.
Allow it to talk to you and help you in your creations.
Beads [a.k.a. 'Eye Candy']
Beads can be a very inspiring when creating jewelry, especially focal beads. Either a style or type of bead can play an important role in your creativity.
Maybe you have seen a beautiful focal bead that you may like to incorporate into a design. That would mean the whole design would revolve around that one focal bead. Pictured here is one of our favorite focal beads we love creating designs around.
We call her our 'bead-at-home-mom' bead, although it could be green hair but we see curlers. She is a fun bead regardless.
Be assured with the variety of beads, especially focal beads that are available, your assortment and choices are endless. 
Does the bead speak to you? Does it lend itself to a particular style or perhaps it's a stand-alone design?
There are many factors that will play into this type of designing that each creation will be a unique one of a kind [OOAK] and don't you just love unique.  You may lean toward this type of designing if you buy handmade beads from bead artist or if you should decide to learn to make beads yourself.
We expand more about beads as a general overview to introduce you to the vast variety that await you when you begin your own designing. Take a visit now if you are looking for more information about these delicious eye candies.
Just be sure to come back and finish up here before roaming to far away. Promise?
Price Point
How much do you plan to spend on supplies?  Do you have a budget set for yourself? Buying beads, materials, tools and storage all add up to dollars.
Beading is relatively inexpensive but you can run into $100's of dollars either based on quality or the quantity of beads and how much inventory you accumulate.
Then what will you do with your creations?
Will they be for you, gifts to family and friends or a means to earn extra money? 
If you accumulate inventory to sell your designs there will be the added cost in marketing and packaging as well. 
All of this can play a huge factor on the type of designs you create or at least create in the beginning. 
You can always start small and work your way up reinvesting in materials to build your inventory to resell until you have a good cash flow and can work with more expensive supplies.
Jewelry can be made for a dollar or less and still produce a very nice piece of costume jewelry with quality stones.
But if fine jewelry is your taste with gemstones and precious metals, then cost and price point will play into purchasing those higher-end supplies.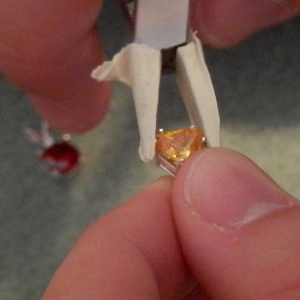 Depending on the type of beads and beading supplies you choose, your purchase can cost as little as 1 cent for some selections of beads on up to $10 or more per bead, plus everything in between.
Learn from someone who has been there, done that.
In the beginning we rushed out, bought a whole bunch of beads based on how we thought they looked in the package and what caught the eye. We knew very little to nothing about bead quality. We had a fresh taste for making jewelry and dove in head first.
When the product made it home and were removed them from the packaging it was thoroughly disappointing. Not at all what was expected. We decided to keep them to use for practicing the techniques since there was little investment but we learned a BIG lesson through that experience, it is best to sample the goods before much investment. 
Temptation to these tantalizing treats are very real!!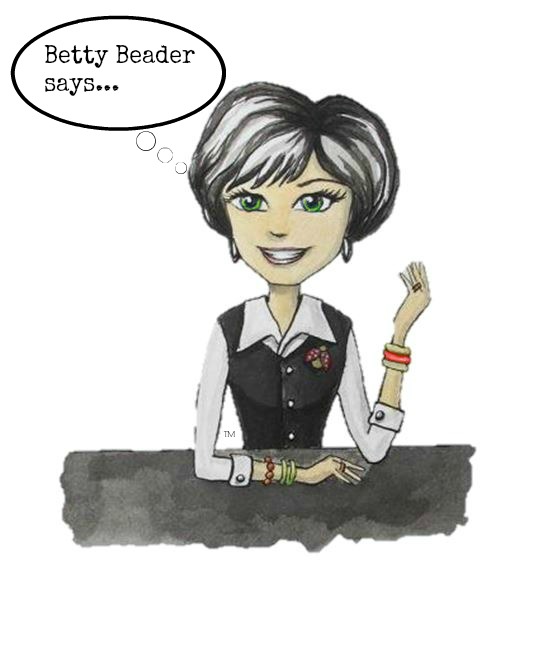 Beading Tip
Allow yourself time to become familiar with available product before investing very much money.
Resist temptation of the price tag. Set a budget and stick to it.
Don't be lured into a sale or the fact that a bag of beads may only cost $1.99.  If that's the case then only buy 1 package and not the lot.
Resist the temptation and learn your material and product first, it will save you money in the long run.

In Conclusion...
There are many facets to incorporate in your beading designs to be an effective jewelry designer whether you are designing for yourself or for others, giving your work away as gifts or selling your work for profit?
Learn what speaks to you.
What is your mood for the day?

What is the weather?

How much time do you have?

Do you have all of your materials available?

Is the design still in thinking process?

There will also be those times that the design you have in your mind's eye doesn't turn out quite like you expected. Will you be flexible enough with your designing to change your course mid-stream?
Every facet to designing will not necessarily play into the equation with each piece of jewelry you create. Use it as a check list or just for reference.
The more you create, the more beading designs and ideas will flow from you. 
But what if you hit a bump in the road? What if you are not feeling creative or don't want to design, then what?
Explore the topic more in this article '5 Ways to Find Inspiration for Jewelry Making Ideas'. We explore with you some avenues to consider when trying to get those creative juices flowing with your beading designs.
Don't have time to read it now, bookmark the article and come back to read it later. We believe you will find it helpful [but of course we would say that, we wrote it for a reason.]
Now where to go from here? You have options for continuing your path to learning how to bead.
Already been then check out the navigation bar on the left and see what other topic catches your fancy. 
Remember this is at your pace.
I'll be looking for you.

Jewelry Making Classes
---
Beading Supplies