Beading Wire
Let's talk about beading wire and find out precisely what beading wire is and which is the best to use for all of your bead stringing projects.
This is a supply, or finding, you need to pay particular attention to.

Do not confuse this with wrapping or sculpting wire...but more on that later.

If basic stringing is your focus for jewelry making then it will be the most commonly used material for your projects.

It is important to understand the supplies you'll be using in addition to the quality and options that are out there when suppliers will be working to capture your attention as well as your money.
Here is what we need to uncover about Beading Wire:

1. What is Flexible Beading Wire?

2. What is Beading Wire Made of?

3. Which is the most flexible wire?

4. Which is the best wire for beading?
1) What is Flexible Beading Wire?
It is a stringing material made from several thin wires. Most are made of stainless steel but others are made of sterling silver or gold filled as well.
These multiple thin wires are then twisted together and covered with a nylon plastic coating to create a single strand.
The thinness of each individual strand provides flexibility for a flowing movement, which in turn allows jewelry to conform to your personal curves and angles.
No Way!?
Yes Way!...
In this example you see what it looks like on the inside if you were able to see it with your naked eye. This is considered a 7-strand.

When you cut your length for stringing, this is what the inside would look like under a microscope.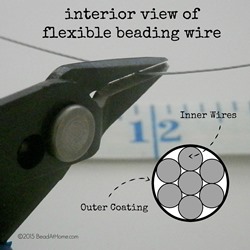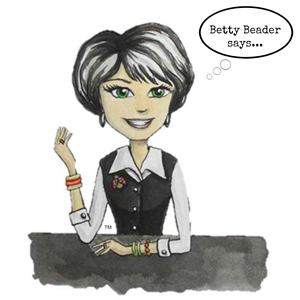 Different manufacturers = different strand counts (anywhere from 3 to 49 strands) = different diameters.

This is important to understand the difference and flexible is the key word here.
Let's continue...
2) How are They Different?
What is Beading Wire Made of?

The difference is based on:
Number of Strands
The Diameter
Manufacturer
Packaging
Beading Tip:

Not all beading wire is created equal.

Soft Flex Beading Wire is 'the' beading wire of choice for designer grade jewelry.

You get what you pay for so don't settle for less quality to save a few pennies. It will save you the heartache in the end.

PSST...I share from years of experience.
You have options and choices.
Some manufacturers produce spools of 7 strands, others produce 3 strands and still others produce 21 strands.
Like everything else there are choices in colors, materials, the length on a spool and all of this effects pricing.
Back to our example from earlier...pictured here are two different types and how they might look if you could see it up close and personal.

| | |
| --- | --- |
| 7-Strand | 21-Strand |
If you want to make a good choice then my best suggestion is...
Learn to Read the Label
The best way to understand the differences and what is available is to learn how to read the label of a spool.  
Packaging of this 'finding' comes as a spool and the important key information to look for on a spool are:
# of Strands
Diameter
Length on a Spool
These 3 pieces of information should be found on every single spool you are considering for your project, if it's not then consider it a red flag item.
Check out this diagram for additional information manufacturers should provide on each spool.
Look at these additional examples...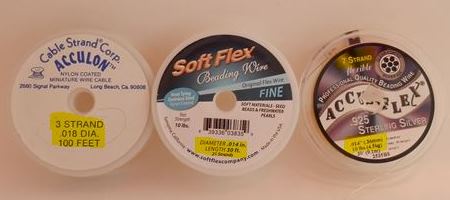 This spool of Acculon is stainless steel

3 Strands
.018 Diameter
100' on spool
This spool of Soft Flex is stainless steel

21 Strands
.014 Diameter
30' on spool



This spool of Accu-Flex is Sterling Silver

7 strands
.014 diameter
30' on spool
Beading Tip:

Do not confuse this with wrapping wire.

Learning to read labels will save you the pain and frustration of buying the wrong product.

Here is how you can tell.

Beading Wire is identified by strands.
Wrapping Wire is identified by gauges.



Ready to move on?
3) Why Beading Wire VS
Other Stringing Material?
There is not just one answer to this question. 
The decision to use other stringing materials will be solely based on your individual project and your personal preference.
Examples:
If you want a basic strung necklace or bracelet, flexible beading wire wins hands down every time.
If you want a woven bracelet you'll need a softer cord.
If you want a stretchy bracelet you'll use elastic.
If you want a stiff cuffed styled bracelet you can use a finding called 'memory wire'.
We discuss each of these stringing materials on other pages.
But for now...
4) Which Wire Should I Buy?
Which should you buy?....the best I can offer is to tell you my recommendation.
Pictured here is the brand I highly recommend. Soft Flex is heads above the rest, in my opinion...here are the reasons why: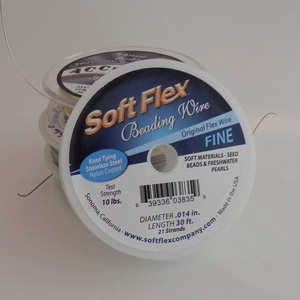 supple enough for knotting
flexible and soft draping
resist kinking
strong and durable
made by beaders
recyclable
strands range from 21 to 49
soft movement to conform to curves and angles
made in U.S.A.
high quality at an affordable price
We expand more on this product, why we have used this specific brand almost exclusively for over 13 years for my projects and jewelry making classes.
The choice is ultimately up to you. But I wouldn't be doing my job if I didn't guide you, the beginner, in this decision and provide you a starting point.
Even Betty, the beginning beader, started somewhere. Why do you think we are convinced this product is heads above the rest?
All project tutorials on this site uses Soft Flex Beading Wire unless otherwise noted. So it's the brand to buy.
[this is not a paid advertisement but 100% my opinion]
For additional information on this specific product here is an information sheet providing a wealth of knowledge from the manufacturers of Soft Flex. You'll find this and more information like this very helpful on your journey to making jewelry.
Happy Reading.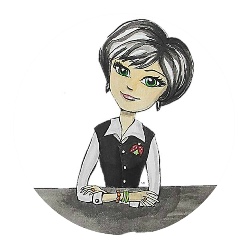 Where to Go 
From Here?
This concludes our look at this product in the vast sea of jewelry making supplies and findings.
Thank you for spending time with us today.

I hope you have learned what you need to, for this finding, to make your beginning process less confusing.
If you have any additional information you might like to add or any additional questions then please feel free to 'contact me' and tell us what's on you mind on this topic.
From here I encourage you to continue on your journey of jewelry making supplies.