Seed Beads
Seed beads...these delicious little tempting treasures that have as many uses as choices are what we will explore on this page.

Let's find out:
Stringing Materials to Use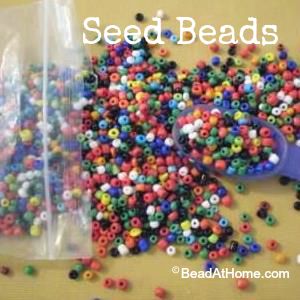 ---
What Are They?
---
Seed beads are a generic term for 'very small beads' and they are in a class alone.
Discussed on another page of basics, beads are measured in millimeters [mm]. BUT...seed beads range in size and are measured by these crazy numbers that look like this; 15/0 or 15° and 11/0 or 11°.
What do these numbers represent?
To put it simply, the numbers represent the approximate amount needed that equals an in. This is the general rule of thumb and remember it is just an approximate.
For example, 15/0 size takes approximately 15 to make an inch and 11/0 takes, you guessed it, 11 to make an inch and so on.
Now here is another little tidbit; when you hear someone say the size they will either say "size 15" or "15 aught".  Aught is what puts the /0 or ° in visual terms.
Sizing is a general rule of thumb. 

With different manufacturers come different methods so the number does not always represent the length. It won't be longer than an inch but may very well fall short of an inch of beads.

Have patience and you will find the right suppliers and manufacturers for your seed bead needs. 
---
What Sizes Do Seed Beads Come In?
---
Since they are 'very small' the range of size is limited, but none the less, there is more than one size to choose from.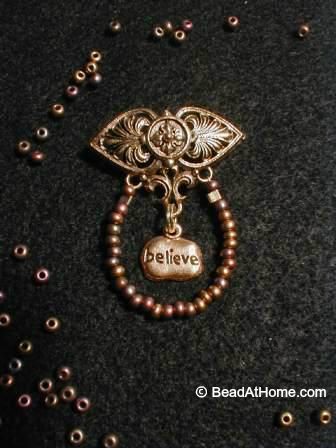 The smaller the size number, the larger they are.

These larger size also host a few different names; 'ee-beads', 'crow beads' or 'pony beads' and are generally the 6/0 or 8/0.
They also have larger center holes which allows them to be easily strung onto heavier thick cords or leather strands. Great for children's craft projects and macrame.
Like everything else in the beading world they are available in a variety of selections, finishes, colors and even shapes.

Some are single holed, some are doubled holed. The assortment goes on.
This will be half the fun of discovering what awaits you to find and what you will create with them.
---
How To Buy Seed Beads?
---
When purchasing your materials learn the different manners they are packaged.
You can find them in vials as loose or unstrung stock. These are measured by 'grams', sold in bags by the ounce, as shown in these pictures here.
This allows convenience for viewing and pouring over the selection.
Plus as you will see here from my favorite hobby store, Hobby Lobby, they offer color combo packets. I find this a quick inspiration for themed projects.
In addition to vials, bags you can also find them sold as 'hanks'. Hanks are a unit of multiple temporarily strung strands that may range from 8" in length to 20" in length.
Which way will be the easiest for you?
Maybe give each a try to familiarize yourself with the options available to you.
---
Ideas For Using Seed Beads?
---
There is a wide variety of uses. Having several on hand will be beneficial and should be a standard feature in any beginner jewelry supply kit.
Just a few of the most commonly use for these tiny treats:
Bead weaving, either on loom or off loom, is a very popular technique with endless designs and patterns. Do a little research and you will see for yourself. Learning different stitches will keep you busy. 

Hand embroidery embellishment on either garments or accessories such as wedding dresses or handbags are also a common use. 
Native American garments are a prime example of incorporating seed beads with jewelry making and embroidery.
There is a long, rich and interesting history behind these little delights.

Notice here in this picture the beads have been used as a utility purpose creating a decorative loop to hold other components.
The uses are endless. 
They are fun to play with providing hours of creative diversions. You will find many uses for them other than what I've summarized here.
Keep your eyes open and you will begin to notice them everywhere used in such creative ways. How do you see them used?
---
What Stringing Materials to Use?
---
There are a variety of stringing materials available and based on the size of the bead hole increases or narrows your selection.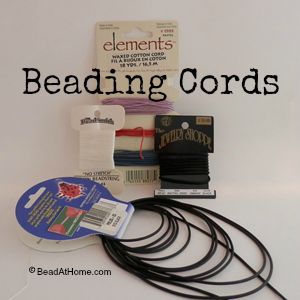 Silk and nylon threads are typically used if you are going to be weaving.
Bead weaving consist of sewing the beads together using bead needles, so these threads need to be thin enough for multiple strands of thread to pass through the hole.

There are a few weaving threads recommended and we are in process of compiling a list.
In the meantime allow me to introduce you to just one name brand that is beadweaver's choice material.
'Fireline'...is a specially treated thermally fused polyethylene. Here is one bead-weaver's take on using Fireline for weaving, Patrick Duggan Designs.
Beading Tip:
Fireline beading thread started out as a fishing line thread. The beading world found it and began using it for weaving. The company re-manufactured the thread to market to the beading community. It is still available in fishing tackle departments.
For the larger holed seed beads, pony or crow beads there is satin and leather cords. With a larger hole a larger cord is more practical to use.
Beading wire or thin wire is also an option based on your personal needs.

All of these stringing materials are available in a variety of diameters and your needs will be determined based on each individual project you create.
Here is a great informative video that covers some really great basic info for weaving thread.
Bead Thread Overview


What a wealth of information.

---
Where To Find Beading Patterns?
---
There are many places both on and off line to find beading patterns should you decide to move more into this area. There is lots of fun to be had and can be very addicting. 
Here is a prime example of what a seed bead addiction can create in you.
One of my beading buddies, Marilyn Southmayd, has been so taken with working with seed beads that she has written her own book to help and encourage others with this.
Her story is like most of us, we started beading and then just let it take us where the beads called us.
Marilyn's passion took her to weaving and then writing about it. 
Here is just a sample of some of her work. 
Marilyn has been such an inspiration to me personally to see what can be done with these treasures. I have been able to see them with new eyes never realizing just the possibilities that were out there. 

Bead weaving is on my 'to do' list.
I hope you decide to try it as well.
---
What Else Do I Need to Know?
---
I hope this has been helpful as a quick introduction. There is still so much more to learn then what is here.

This isn't even the tip of the iceberg on the topic and there is too much to share on just one page. It is an endless topic.
For a more explanation I found this informative article from Fire Mountain Gems titled 'Seed Beads 101' that has a great explanation and expands more on this topic.
You will find charts of sizes and shapes plus articles for more history of seed beads.
Fire Mountain Gems even has  printable PDF forms for graph paper to create your own patterns based on the type of stitch you would like to use.
In addition to this there is a wealth of info on YouTube as well for the different stitches, types of threads and so, so much more.
Enjoy the journey of your exploration with your projects and your new discovery with seed beads.
Please send us pictures of your creations so we can share it with our Bead At Home audience.
We get our best inspiration from each other.
If you should have any additional questions while you are visiting be sure to reach out and contact us.


In the Meantime...We'll Leave the Light On.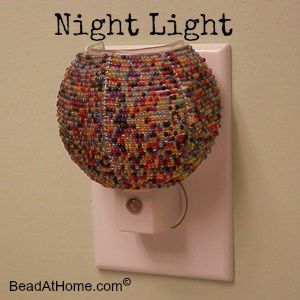 Do you know someone who may benefit from this site? Then please share us with them.