Crimp Bead
We want to talk to you today about a very specific bead called the crimp bead.
It is a unique, stand alone type of bead all by itself.
It is the secret component that holds strung jewelry together. But it seems to get very little credit.
In fact, a lot of times, it is disguised so that it is not seen at all.
Well we are here to share with you the importance of this brillant, hard working, behind the scenes component called the crimp bead.
Let's give credit where credit is due while introducing you to the varieties of crimps available to use.
We think you'll be pleasantly surprised.
We're gonna brag on it's capabilities and reveal to you all the things this little miracle seed of a bead does, providing inspiration to your designs for jewelry and accessories.
Ladies and Gentlemen I present to you 'Crimp Bead and Family'.
Crimp Bead vs. Crimp Tube
First, let's begin by answering that nagging question of 'What's the difference between the crimp bead vs. the crimp tube?'
You may have seen both on the market and have wondered 'what's the difference?'.
This can be mind blowing information...Are you sitting down?
Prepare yourself for this shocking discovery. Ready?
The difference is - the shape.
Yep...seriously that's it.
You see here in this example that one is round and the other is elongated. Bead vs. Tube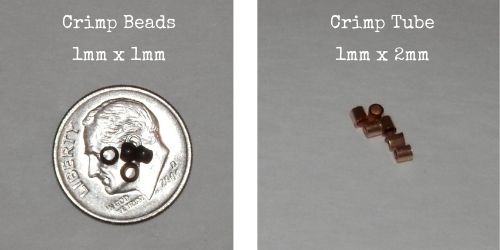 Inside Diameter vs. Outside Diameter
For each of these styles of crimps there are different measurements.
But with each there is always an outside and an inside measurement.
It may or may not have a bearing on which crimp you choose to use.
In the beginning the main importance is just understanding the concept of the crimp bead but as you progress in your learning and creating designs you will want to understand the difference between inside and outside diameter.
Why? So that you can select which is most effective for how you will use it in your designs.
It's kind of like a puzzle and finding the right components that work well together are the fun of putting this puzzle together which is a piece of jewelry.
Let's look at the 2 different measurements.
Now you may be asking,
To put it as simple as possible, crimps can be used for many different projects from making jewelry to a variety of other crafting projects, such as:
Once you understand that the magic of this bead and sole purpose is to hold components in place then your uses are endless. Literally.
I don't want to make this complicated or to confuse you either, but I do want you aware that there are different sizes both inside and out.  It is important to understand that the inside diameter determines the opening available to accommodate the number of strands of beading wire.
Sometimes you need on one strand, when making necklaces and bracelets you need a minimum of two strands to fit inside the crimp bead.
Here is an example. In this picture you will see this crimp bead fits 4 strands of .014, 21 strand of Soft Flex beading wire.
Why is that important?

Based on the diameter of your flexible beading wire it pre-tells you which inside diameter (i.d.) can be used with which diameter wire.
If this doesn't make sense then we received this question exactly on this topic so let's see if we can explain it this way as well.
Question from one of our readers
Q:The wire & the crimp beads seem to come in different sizes - how important is that at this point? 
A: You are right, beading wire and crimps do come in different sizes but unfortunately the answer is not just black and white, there are many gray areas.
There are variances in making jewelry and selecting our supplies is no exception.
I feel the main importance at this point is what stage are you in learning how to bead and make jewelry?
If you are just starting I find it more important to get the concept of how to make jewelry...You seem to have the grasp of it if you know to ask this question.

The other consideration is who is your supplier? If you are shopping jewelry supplies on line then you have a big selection for sizes. If you are shopping in a big box like Michaels or Hobby Lobby then your selection is much more limited especially in the crimp sizes.

The best suggestion I can offer is: 

beading wire: soft flex beading wire either the 21 strand with a .014 diameter for light projects and 49 strand with a .019 diameter for heavier projects.

crimp beads: Sterling silver 1x2 outside diameter, inside diameter (i.d.) I think the importance will be based on the thickness of beading wire. You don't want it too big but you also don't want it too snug that you struggle working with it either.

Thank you for your question and I hope you found this helpful.
---
We hope you also found this helpful as well.
Now we could talk on these specifics til the cows come home but I feel the main thing you need to take away from this is the inside of a crimp bead needs to allow two strands of beading wire to fit comfortably.
This is part of the instructions in making jewelry you will see here in the bracelet and necklace tutorials.
If you should have any further questions what we just discussed then please let me know. I invite you to reach out to me
Family of Crimps
Allow me to introduce to you the many members of the 'crimp family'
Decorative Crimp Beads
Ribbon Crimp
Fold-over Crimp
Cord Crimp
Decorative Crimp Beads
Most crimped beads are part of the assembly of the jewelry and generally exposed for the world to see. Well almost, we discuss those that don't get seen in a bit. But since these crimp beads are exposed, a different look that provides a decorative feel adds an appealing appearance to your finished piece of jewelry. 
Here you see this specific type of decorative crimp bead. It is compressed and provides a hook and eye closure. Using a faux leather cord we have added a pendent for a clean minimalist look.
These type of crimps are super easy to use. We encourage you to have your piece planned out before compressing these crimps. As all crimps are only good for one use.
Ribbon Crimp
Fold Over Crimp
Cord Crimp
Crimp Accessories
Accessories for crimps are like cousins to crimps, They aren't actually crimps but they play a part in the life of a crimp. They are not necessities that determine whether the crimp works or not they are merely for asthetic reasons making it more pleasant to look upon.
Crimp Cover
Bead Tips
Specialized Crimps
Scrimps
Screw in Crimps
The Magic Finding Crimps
Other specialized crimping mechanisms
The Magic Finding Crimps
---
This special combination crimp set consisting of a multi-holed crimp and a loop insert offers you another professional looking option to finish out your jewelry.
A very unique way to create multi-strand necklaces and bracelets. To see how it works and ideas of use visit the magic finding (dot) com to see their illustrations.
Also the video below, created by Fire Mountain Gems, shows a demonstration of how to use this crimping process as well.
I have never used this process as of this writing but the best part of creating jewelry is that there is no right way and there are always options.
If you have used these crimps please let us know and we would love to have you write us a review of your experience.
Thanks for considering.

Jewelry Making Classes
---
Beading Supplies