Beading Jewelry Craft Magazines
Beading jewelry craft magazines and art jewelry magazines are a useful resource to get you started beading.  Several publications are available and we'll look at some options available to you.
[This page may contain affiliate links but all opinions are 100% mine.]
When beginning any new hobby, craft or any new venture, starting with a craft magazine is a helpful and affordable resource to familiarize yourself on the topic.
That was the path I eventually chose. 
I share in my own story how lost I was figuring out how to get started beading. There were no classes or bead shops in my area and I didn't know anyone who did any kind of jewelry making.
When I walked through the beading aisles of my local craft hobby stores I became overwhelmed. It was not very inspiring for me as a beginner.
So I backed away and caught my breathe.
I then decided it would be best to consider a publication on the topic instead and went straight to the book section of the craft store I was visiting to see what was available. I settled on a beading jewelry craft magazine.
It was just the answer I needed to get me started.
I got just enough information that I knew I wanted to find out more about how to bead, but at the same time, not too much information all at once that I couldn't digest it piece by piece.
Beading jewelry craft magazines offer several points of interest that I was looking for.
Projects
Good vivid pictures
Descriptions
List of items and materials used in projects
Tips
How to
Frequent editions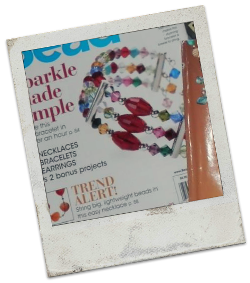 All the same features you would find in a beading book.
But the extra that gave the edge for me were...
          Advertisements
That was the big draw that I was looking for.
Remember I didn't know anyone that did beaded jewelry so I was looking for resources and avenues to connect.
You'll find ads for beading suppliers all anxious to get your business and willing to help.
There are ads for bead shows, beading schools [called lapidary schools], bead shops and endless suppliers of this specialized bead or that specific tool and so much more.
The cost of a single edition is worth ALL the information you will find between the covers. Plus, for the cost of most books you can purchase a year subscription ending up with at least 6 full publications.
That's a bargain in my book.
Beading jewelry craft magazines also provide opportunity to get yourself published when publishers run contest asking for entries from their readership or submissions of your work.
What great exposure for you and your work if that's a path that may interest you.
Here is a list of beading jewelry magazines worth looking into.
My first on the list is my publication of choice and I'll explain why.
Which Beading Jewelry Craft Magazine Do I Pick?






Beginner's Tip:

Bead Style Magazine is the beginners magazine I recommend to all new beading beginners.

Here's why...
Bead Style Magazine
Bead Style Magazine is my favorite 'go to' beading magazine for all beginners and my recommendation to you if you are just getting started or if basic stringing is your main interest.

The projects are focused to the beginner level but some projects offer enough challenge that it doesn't look like a beginner.

All resources and list of materials are provided for your convenience to inspire you to create your own.
Listed in the back of each publication of Bead Style is a step by step reference to the basic techniques.

This publication was not in production when I first began beading but since it's inception in 2005 it has become my faithful companion. 
I openly share with you that I am very bias to the Bead Style Magazine. I have found it to be the type of beading I am most fond of and haven't found another magazine to compare with or one that catches my interest as much as Bead Style does.

It has a charm about it that keeps drawing me in and I find it to be a valuable tool especially with my beading classes. 
I believe the thing I enjoy the best about this publication is the simplicity of beading jewelry. It is what has caught my attention all these years and Bead Style Magazine fits me perfectly.
Bead Style Magazine is published every other month by Kalmbach Publishing Company. Kalmbach also publishes two addtional jewelry magazines which are listed below.
Ready to see more?
More Beading Jewelry Craft Magazines
Before we move on allow me to share with you that I have some but not as much experience with the other beading jewelry craft magazines listed here.

Over the years, I have sampled a few other publications, but I grew very partial to BeadStyle Magazine once it came out and chose not to wonder far.
It may be time to venture out more for the sake of broadening my experience.
Shall we discover together?
Everyone will find their favorite beading jewelry craft magazine, so if Bead Style is not your style or to your liking then here are some other publications you may find available in your local hobby craft magazine rack.
If you know any of these publications first hand or know of other publications that may not be mentioned, please feel free to leave a review to help our readers here at Bead At Home Beading Jewelry 101'.
Bead and Button


The Bead and Button Magazine is a sister publication to Bead Style.

Published by Kalmbach Publishing.

This publication comes out every other month alternating the months with Bead Style Magazine.  

Bead and Button was the first beading jewelry craft magazine I purchased.
At the time it was not what I would call a 'beading for beginners' magazine to basic stringing, but it provided me with enough resources that I was able to move forward in my learning.
This particular magazine is more focused on weaving and stitching beaded creations.  The projects in the publication are gorgeous but may be a bit too much for someone looking for something more simple, like I was.
I was not interested in weaving and sewing little seed beads in the very beginning, I wanted basic stringing. But that was my personal preference.
Having actually tried some weaving for a short period it still did not hold the same interest that basic stringing did although it has not stopped me from purchasing other editions to this beautiful publication for the mere reason that I enjoy all things beaded. 

Still worth a look and if you should subscribe to BeadStyle, then Bead and Button would be a good filler between issues.
Art Jewelry
If wire working or working with metal may be an interest to you then this beading jewelry craft magazine, 'Art Jewelry', may be what you are looking for.

As I went back through my library of back issues I found Art Jewelry among them.

Art Jewelry lends itself more to the metal working and wire working but also covers the 'Art' of jewelry making as well.
The topic is wide. There are many things that could fit under this category of 'Art Jewelry' and goes way beyond basic stringing.
As a novice I'm sure there are things you could easily find to adapt to your skill level or use this publication to increase your skill set and grow with it.
Art Jewelry Magazine is also published by Kalmbach Publisher.
If you would like to write a review on this artful publication please feel free. Your comments are welcome. 
BeadWork


I do tend to keep most of the beading jewelry craft magazines I have purchased over the years and BeadWork Magazine happens to be one of them.

It's an older publication which speaks well of it. I found some of the articles very fascinating of bead artist and their creativity with beads.

As I re-visit the 2003 issue it still holds the same fascination.
Bead Work Magazine is published by Interweave Press and I've heard said that Bead Work Magazine is an awe inspiring publication that provides dozens of ideas and techniques in each issue. It provides update info on the new and upcoming trend in products.
It may be time to purchase a newer version to see how the publication may have changed.

There is also a custom section bringing you unique solutions for finishing and enhancing some of your pieces.
I find Beadwork magazine lends itself to the bead weaving and looming community.  The projects are beautiful and may inspire you to move in this direction of beading.
It may just be your cup of tea, one subscriber writes that the projects are never disappointing and that they are inspiring to expand her skills and imagination.
There is something for every skill level and design challenges behind these pages of Beadwork beading magazine.
Stringing





Stringing is published quarterly and one publication, at the time of this writing, I am not familiar with.

Are you? We would enjoy hearing your review and I invite you to share.

In the meantime here are 5 great reasons to love 'Stringing' Bead Magazine. 

[so I've heard.]
Lots and lots of projects. Providing real life or at least real to life size photos.
Bracelets and Earrings. (focus pages on just bracelets and earrings providing several different designs.)
Design advise and Trend tips; Just for You! Beading isn't just about techniques but also about the

design

,

style

and inspiration and the editors work hard to keep their finger on the pulse to keep you informed.
Discovery of the favorite trends; In the section called 'beads to buy' you will have at your fingertips the 'ins' on the newest happening beading projects.
 Affordable Styles;  in this section called 'beading on a shoestring' all projects listed here are $25 or less while learning money saving tips along the way.
All resources are listed and available to you for the up-to-date and most current styles plus designs for all projects that may catch your creative eye. 
Beading Jewelry Craft Magazines
As all the beading jewelry craft magazines, listed here...and those that aren't listed...provide beautiful illustrations, instructions, free beading patterns and list of supplies each of the publications target a different market.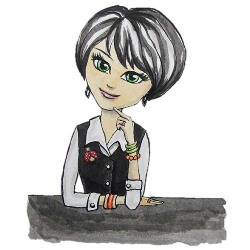 Is there one market you prefer?
It is important to know and understand what type of beading method you are wanting to learn in order to know which beading magazine will best suite you.
If you need to distinguish between the different types of beading, I encourage you to visit 'What is Beading?' and read more on the diverse types and styles of beading jewelry now, before you continue.
Please Join the Conversation...

Do you have a magazine that you depend on for your beading needs?
Do you subscribe or enjoy one from the list above especially well?
Would you like to add to the list?
Then please share more with us or leave a comment reviewing one of the beading craft magazines listed above or share another not listed.