Beading Jewelry Craft Magazines
Beading jewelry craft magazines are a useful tool to help get you started beading with tutorials to guide you along the way.  We do learn best visually and magazines are a great resource. 
It seems, though,  the  beading jewelry  publications that were in publication when I was learning have gone digital. That would make sense in the age of the web where information is a click away. 
When beginning a new hobby, craft or any new venture, and still like holding a magazine in your hand then starting with a book or magazine is a helpful and affordable resource to familiarize yourself on the topic and one path we encourage you to travel first if you are just wanting to dip your toes into the topic. 
That was the path we took to ease us into this vast topic of beading jewelry. But in my day the internet was not what it is today.
As much as I love the on-line information available I still love to sit and feel paper in my hands flipping through the colorful pages having the jewelry and projects jumping right out at you.
I share in my beading for beginners story how lost we were to figure out how to get started with beading.
There were no classes or bead shops in my area and I didn't know anyone who did any kind of jewelry making.
As I would walk through the beading aisles of my local hobby craft stores I became overwhelmed. It was not very inspiring for me as a beginner. So I backed away and caught my breathe.
I then decided it would be best to consider a publication on the topic instead. I went straight to the book section to see what was available. I settled on a beading jewelry craft magazine, Bead and Button. It was just what I felt I needed and I was right.
I got just enough information that I knew without a doubt that I wanted to find out more on how to make jewelry, basic stringing in particular, but at the same time it didn't give me too much information all at once that I couldn't digest it piece by piece.
Beading magazines offer several points of interest that I was looking for.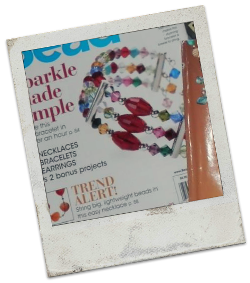 Projects

Good vivid pictures

Descriptions

List of items and materials used in projects

Tips

How to articles

Multiple editions in a year
Most of the same features you would find in a beading book. But the extra information that the magazine gave me that I especially was looking for was...

 Advertisements
The ads in each edition was what caught my attention. I wanted the resources and avenues to make connections since I felt I had none. 
You'll find ads from an assortment of retailers all anxious to gain your attention and your business.
There are ads for bead shows, beading or jewelry schools [also called lapidary schools], bead shops and endless suppliers of this specialized tool or a specific bead plus so much more.
The cost of a single edition is worth ALL the information you will find between the cover pages. Plus, for the cost of most books you can purchase a year subscription ending up with at least 6 full publications. Now that's a bargain!
I maintain a library of my past publications that I still refer to for resources.
Another part of a magazine that I enjoyed was seeing and reading about...
 Jewelry Artists Published Works
Beading jewelry craft magazines also allow you to get your work published. Publishers run contests and look to their readership for submissions.
What great exposure for your work! It inspired us to know that everyone starts at the bead-ginning. Maybe one day, to be published in a magazine can attainable for anyone!
 Which Beading Jewelry Craft Magazine Do I Pick?
Over the years, I had sampled a few publications, but I grew very partial to a particular Magazine called 'BeadStyle'.
It was in publication from 2005 to 2016. Back issues have been turned into book form and are still available. It was the 'go to' magazine for the beginner and was my all time favorite.  
Here is the most current list that I am able to find that are still available.
If you know any of these publications first hand or know of other publications that may not be mentioned, please feel free to leave a review to help our readers here at Bead At Home Beading Jewelry 101'.
---
BeadWork

---
Bead Work Magazine is published by Interweave Press.
It is said that Bead Work Magazine is an awe inspiring publication that provides dozens of ideas and techniques in each issue.
It also provides update info on the new and upcoming trend in products.
There is also a custom section bringing you unique solutions for finishing and enhancing some of your pieces.
Beadwork Magazine lends itself to the bead weaving and looming community.  The projects are beautiful and may inspire you to move in this direction of beading.

It may just be your cup of tea, one subscriber writes that the projects are never disappointing and that they are inspiring to expand her skills and imagination.
There is something for every skill level and design challenges behind these pages of Beadwork beading magazine.
---
Lapidary Journal Jewelry Artist

---
The Lapidary Journal Jewelry Artist Magazine is also published by Interweave as either a printed magazine or a kindle edition.
Interweave publishes a variety of craft magazines representing the assortment of different crafting media.
This particular publication focuses on gem and jewelry trends featuring clear and concise illustrated directions. Along with tips, each project gets to the heart of the materials, the specific techniques used and beading design ideas.
Each edition incorporates gemstones, metal sheet and wire, shares expert advice and spotlights a jewelry artist in every edition
With all of this in each publication you will find a wealth of information to keep you busy.
 Beading Jewelry Craft Magazines
As all the beading jewelry craft magazines, listed here...and those that aren't listed...provide beautiful illustrations, instructions, free beading patterns and list of supplies each of the publications target a different market.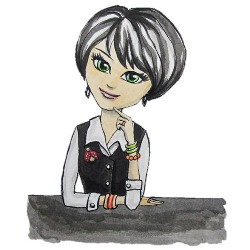 Is there one market you prefer?
It is important to know and understand what type of beading method you are wanting to learn in order to know which beading magazine will best suite you.
If you need to distinguish between the different types of beading, I encourage you to visit 'What is Beading?' and read more on the diverse types and styles of beading jewelry now, before you continue.