February: The Month of Love
Give thanks to the Lord, for he is good and his love endures forever.
Psalm 107:1
---
Greetings
---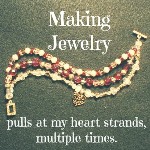 I would like to begin by welcoming you to the first edition of the Bead At Home newsletter.

I just love that you have expressed your interest in hearing the happenings here at Beading Jewelry 101 [BJ101] and what this one beading enthusiast has to share.

Now there are some of you that signed up for these updates some time ago and may have been wondering what happened.

Without a long drawn out story of my own personal woes I'll just say that life happens and I know you understand when I say family takes priority. Something had to be moved to a back burner and parts of BJ101 sat idle.

I want to personally thank you for your continued interest in the community of beading for beginners.

2015 has brought a new season to my personal life.

Needless to say with the new season I find myself with more time to focus on continuing to build Beading Jewelry 101 and to help in your walk learning how to make jewelry.

I hope you decide to stick around. New things will be added this year as the site continues to grow and I would enjoy having you participate.

With that being said I wish you a 'Happy New Year'. I pray this year brings much love and grace into your life with more opportunities to learn the art of jewelry making.

February is the month of love and the color of love is found in the family of reds.

There are warm reds that lean to the yellows and there are cooler reds that are blended with blues introducing the violets and pinks. These cooler reds are the colors found in a Valentine's Day palette; reds, pinks and violets. Yum, yum.

When designing jewelry, if you enjoy playing with colors for your creations, using a color wheel is a great visual tool to keep on hand to easily stay within the same color family. The Valentine's Day color palette is a great reminder of this one method.

The article Beading Designs, found at BJ101, covers this topic in more detail. It explores some of the different methods discussed in jewelry design. It may be worth a read if you are looking for a little extra inspiration this new year.

And while we are on the topic of Valentine's Day color scheme, it puts me in mind of the…
---
February Birthstone
---
Amethyst ~ This luscious violet and red quartz stone is commonly found in many areas of the world. The hues of purple from a light pinkish to deep purple, is considered a semi-precious stone.

There is quite a bit of history about the amethyst. Here are a few interesting things I found in my search.

Purple is the color for royalty and high priest and is used to represent Christ. In the ancient days it is believed that St. Valentine, himself, wore an ancient amethyst ring with a carving of cupid. That one may need a bit more research for more details.

The amethyst is referred to in the bible in the book of Exodus, chapter 39, as one of the twelve gems used in Aaron's breastplate that represented the twelve tribes of Israel.

Not only is the amethyst the birthstone for February but it is also the gemstone representing the 6th year anniversary of marriage.

In an excerpt I read from American Gem Society it was stated that the amethyst 'keeps the wearer clear-headed and quick-witted'.

Hmmm, maybe this should be a regular part of my wardrobe every day. I could use all the help I can get.

Well, there is so much more interesting tidbits on the amethyst to be found, these were just my highlights that stood out to me.

For a sweet project using an amethyst colored heart, here is a project I did with my daughter's class a few years back. I hope you enjoy it.
---
February Project
---
I love simplicity when it comes to creating beaded jewelry. That's probably why I love sharing the 1, 2, 3 process. 1 person in mind, the beginner, using just 2 techniques and 3 tools.

Little work for big results and the instant gratification encourages and inspires.

Here is a quick tutorial for a sweet bracelet I like to use for kid's beading classes. It is simple enough for young hands but creates a statement for adults as well using memory wire.

If you haven't used memory wire yet then why not take this opportunity.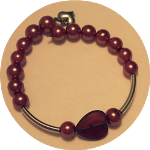 Beading Tutorial: 4 Easy Steps to a Simple Bracelet
Start with a heart bead for a center accent, add a silver noodle bead on either side of the heart bead and round off the design of your bracelet using complimentary pearl coated beads to complete the look for a simple yet elegant Valentine's Day bracelet.
Simple, easy and fun but still elegant for any age.
After you have collected all your materials follow along with this tutorial and get busy beading.
One little bead tip; when making this project, be careful that the beads are not too long. More explanation in the tutorial.
Once you have completed your project, take a picture or two and please share it with me. I want to see your creations and would enjoy showcasing them in the next newsletter.
---
Product of the Month
---
Here is another free beading project for a Valentine's Day treat for yourself, a friend or a mommy and me project using Softflex beading wire.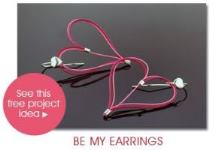 Softflex beading wire is my beading wire of choice.
I admit I am bias to this product. Once I was introduced to it I stopped sampling other beading wires. I feel if you have a good product that works then whats to fix.
Softflex beading wire comes in 21 strands with a .014 diameter for lighter projects and a 49 strand with a diameters .019 for more heavy duty beading projects.
If you are not familiar with what I share here I am currently working on a page where I talk in more detail about beading wire. It is still in 'draft' form but here is a link if you would like to take a peek. Please keep in mind it is a 'work in process' but you are welcome to look through it.
I am always open for suggestions, so if you have a different beading wire that you have found that works better than Softflex then please share your thoughts with me.
Softflex offers lots of varieties with their beading wires and for this month I am passing along a 'Be My Earring' tutorial direct from the Softflex website.
This project is using a 'Trios' package of wire in the 49 strand, .019 diameter using the color combo of 'pink rhodochrosite', 'pink tourmaline', and 'spinel'.
These pink and red combinations make for a fun valentine set of earrings as pictured here and easy to assemble using the crimping technique. Easy to complete in time for your Valentine outing.
Let me know how your project turns out and be sure to send pictures so I can post them.
---
What's new at Beading Jewelry 101
---
The first thing to share is that the newsletter is under way with the first edition here.
The next thing is that I need your help. Here is why.
I received an email last week. It was a timely reminder that set me on a renewed path with BJ101 and that what I am doing is makes a difference. With permission from the sender, here is an excerpt from that e-mail.
"Words cannot express how excited I am about finding your website. I have been buying wholesale fashion jewelry and selling it for a few years now, but I've always wanted to make my own. I have had potential customers ask did I make the jewelry, I would reply no and it seemed to take away for the piece....like it wasn't special or something.
The desire to make my own jewelry lingered and I would think about taking a class at a local craft store but with small children and a working husband it never seemed to work out or fit into my schedule. Finally the other day I went on YouTube and got lost in all the videos about jewelry making. I'm taking your advice and slowing down to learn the basics. I did already order some beads and things after watching tutorials but after reading the information on your site I promised myself I would slow down.
I thank you for making things a lot easier for someone like me to understand. I have learned a lot and I look forward to learning more from you."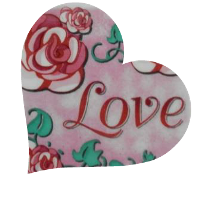 This truly touched my heart and told me that I'm achieving what I set out to do, help the beginning beader. Even if it's just one person then it's been worth it.
Here is how I need your help. I would like to hear your voice and your input through a survey. I want to hear more.
I want to hear your input, I want to hear your voice for what you might like to see at BJ101 and/or the newsletter.
There is a survey to share your thoughts at this link provided.
Beading Jewelry 101 Site Survey
It shouldn't take more than 15 minutes and I will be reading your responses so be sure to let your voice be heard.
As the site continues to grow I will be reaching out sending invitations to you to participate on a 'test team' for possible future products and services.
If something like this interest you then be sure to take a moment right now and fill out the survey.
That's it for now. I hope you enjoyed the first issue of Bead At Home newsletter or at least liked it a bit.
Take a minute now and head on over to the survey and we'll visit again real soon.
Teri (a.k.a. Bead At Home Mom)
P.S. There is a direct link to the survey as well on the home page of BeadingJewelry101.com. It's down at the very bottom in the navigation bar.
Thanks again for participating.