The Lazy Days of Summer are Here!
---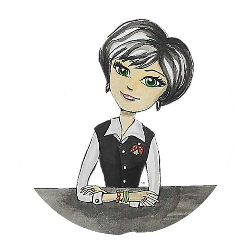 Greetings
and
Salutations
Thank you for visiting with me this June/July issue of Bead At Home beading jewelry 101 summer edition.
Glad to see you again!
---
Summer is in full swing, that means school is out. It also means that hopefully schedules slow down and family and outdoor activities increased.
With the weather warmer it either beckons you to come out and enjoy the weather or to hide indoors in cooled air conditioning. Either way most lifestyles take a little different turn during the summer months.
Swimming pools and beaches invite you to slow down and enjoy the water.
As a mother with kids still at home, my schedule most definitely changes.
We love making an annual beach trip and if we can swing it, we take two, as you see pictured above from a past trip.
The beach will be calling us later this month. (Thx Brenda and Nick for making this always possible and affordable for us.)
So what's on your summer schedule this year?
• Summer camps for the kids
• Family Vacations
• Traveling to see extended family
• Stay-cations
• Hanging out at home
• Sleeping in and slowing down
• Getting together with friends more often
All of these sound very inviting in our house. What about you?
With a slower pace how about increasing some beading activities...that's always a definite on my wish-list of things to do.
Doesn't always mean I get it accomplished.
This summer I did begin practicing macrame incorporating beads into the designs.
You know what that means?
---
Learn a New Technique
---
So this summer I was determined to learn something new, even though I had done macrame long ago that was the point...it was loooong ago.
Macrame is a combination of weaving knots to achieve a certain look. There are several different patterns to learn. I have written on this in more detail at...
I wanted a refresher and hungry for a little change of pace. The last few years it has become very popular again and now with bead-utiful beads incorporated into the design, how could I put it off any longer.
Here is a sampling of my first attempts just to get the feel for it. I just used what I had on hand til I felt a bit more comfortable.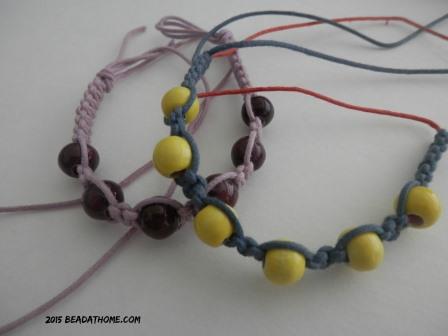 This is the square knot and a very, very easy knot to achieve. It did take just a bit to get the hang of it. I had to really pay attention until I could see it, but with practice it became an easy pattern to create and I found it very relaxing.

With the practice session out of the way and using up what I had in my stringing stash, you know what time it is?
---
Let's Go Bead Shopping
---
I had to replenish some of my cording stash. I wanted to see what was available.

The cording used in this one right below is called 'hemp'.

I couldn't resist the lime green and I had these brilliant blue porcelain beads just waiting for the right project. Then I found this adorable button in my ever growing button collection and thought a button closure the best and easiest to start with.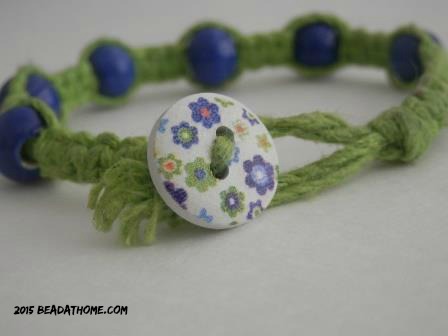 I thought this turned out cute with the blues and greens but the button hole needs to be adjusted just a bit smaller.
Next time...
This next macrame bracelet I used a different type cord I have not noticed before...t-shirt cord or yarn.
This black and white polka dot caught my attention immediately because I remembered these large holed red glass beads in my bead stash and thought it would make a fun combo.
Reminding me of a ladybug and if you haven't noticed, I like ladybugs...the only thing missing is an adorable ladybug button.

I will probably redo this one, this button is very uncomfortable and it's just not done without a ladybug button. Yeah! More shopping...

So that is my new technique I learned for the summer...did you have any to share?

If this looks inviting to you I encourage you to give it a try.

No special tools needed, no super special supplies either and super, super easy...

I have started noticing the t-shirt cording more and more in the beading supply aisles now but here is a little article I came across that shares how to make your own t-shirt cording.

Make Your Own T-Shirt Yarn and Cording

This link is from hometalk.com. If you can't open this link without a membership then try this link instead, it takes you to the original article.
---
What's New at Bead At Home BJ101
---
Beading kits are in process...hoping to have them out and available to purchase by the end of summer just in time for the shopping season and biggest gift giving time of the year.

I will continue to keep you posted.

Also, the site surveys continue to come in and I am so grateful to everyone who takes their time and fills this out. All information and your suggestions are appreciated and helpful.

This survey helps me to serve you better.

If you haven't filled the survey out yet and would like to here is the link for your convenience.

Beading Jewelry 101 Site Survey

This community is meant for you, let your voice be heard.

FYI: I do read them.

From the surveys that have been submitted I have the first 'test team' up and running. If you signed up to be on a test team and did not get contacted this time around don't fret, there is so much still to do with Bead At Home beading jewelry 101, I will be needing your help so I will be in touch.

We have A LOT of growing still to do, I have hardly scratched the surface.

Please feel free to reach out and 'contact me' if you have a pressing question and you are not finding it on the site, a Q & A page is coming soon and I need your questions to add to it.

Let's get beading.
---
In Conclusion...
---
I wish you and your family a safe and 'cool' summer.

As 2015 continues to move along I do work for you trying to continue to add more and more information.

I deeply appreciate your visiting Bead At Home bj101 and hope you have found a home here. I look forward to continuing to grow with you.

We'll talk again soon and remember...

Exodus 31: 3-5 I have filled him with all kinds of skills to make artistic designs for work in gold, silver and bronze, to cut and set stones, to work in wood, and to engage in all kinds of crafts.

Beaded Blessings,

Betty Beader (a.k.a. Teri)
---
---