---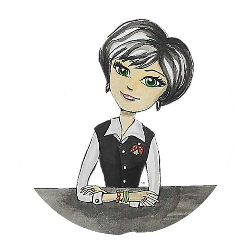 It's
National
Button Day
Whoop Whoop!
Let's Celebrate!
---
Okay, maybe that is a little over the top but what a fun notion ...that is if you love buttons.

Well do you?

I have fond memories of running my fingers through Mother's button tin with what seemed like thousands of buttons to a little girl.

Visiting around the internet, looking for interesting projects, other beading buddies and general jewelry making enthusiast has turned up some rather interesting things.

So I thought in honor of National Button Day, it would be fun to share some button projects with you.

But first, just for a little extra fun...Recently going through some of my Mother's things I came across this tool.

Do you know what it is?

I must confess I did not...not until I was doing some research looking for some things to share with you.

Well if you know then you are good, but if not then you fit in the category with me...still a lot to learn.

If the suspense is killing you then stick around to the end and I'll reveal my findings.

Let's keep this short and sweet since it's late, gotta love the internet (I'm being sarcastic, it's no fun when service doesn't cooperate, so better late then never) Anyway, Ready?

Let's begin with...
---
History of Buttons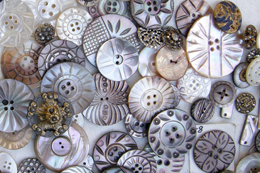 Everything has a history, even buttons.

This one article of the 'History of Buttons' gives an account of the earliest records of buttons and how they got their start.

Buttons were originally used for decoration only. They served no purpose except to make things look pretty.

This avid button collector, 'Dustystars' gives more tidbits for the button lover in you including designs and

Should you need more button ideas, look around to see what you find.
---
Button Earrings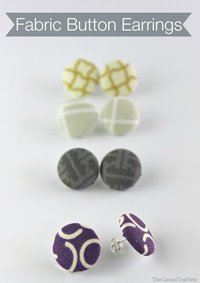 This little tutorial from the 'Crafting Chicks' is a style of button that you make yourself with a frame and fabric.

These forms are found as a kit in the sewing department of your local craft store, you just need to pick the size and fabric.

In this tutorial this artist demonstrates how to assemble 'Fabric Cotton Earrings' using these button kits.

You can get very creative, turning out some very unique custom earrings.

Or you have the option of adding them to a bracelet as well.

Your options are endless when it comes to custom.
---
Button Hair Clips
'Architecture of a Mom' shares with us that buttons can be worn as hair accessories as well.

Here she shares a tutorial for making these adorable 'Minnie Mouse Hair Clips'

If you have little ones in your life these are sure to be a big hit.

Maybe these can be for the little girl in ALL of us.

Okay next on the button parade...
---
Button Bracelets
This tutorial from the 'Smitten Kitten' shares a unique look with a 'Multi Button Bacelet'

Follow along this step by step process.

Button, ribbons and embroidery silk will be on your supply list to recreate this lovely multi row button bracelet.

Change up the color selection for a little more pizzazz.
---
Gypsy Charmed Button Bracelet
For this next 'Button Charm Bracelet', beads and jingle bells are incorporated with the buttons for what 'Creative Kismet' calls a 'gypsy style charmed' button bracelet.

Jingle all the way to the crafting aisles of you craft store for your variety of goodies.

Or maybe you already have most of this stash around your house to create this musical sounding bracelets.

It's sure to make your heart sing.
---
Charming Charmed Button Bracelet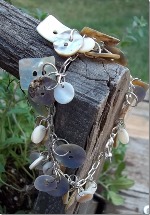 Next in the button bracelet tutorials is another 'Charming Button Bracelet' brought to you by 'Creative Passage'.

Her inspiration comes from our favorite inspirational hangout... Pinterest.

What would we do without these creative boards to stir that inspiration in us. i know my 'to do' list grows every time I visit.
---
Simple Button Bracelet
Now to round off the button bracelet tutorials here is a very 'Simple Bracelet'
I like this tutorial by, 'Buttons Galore and More' very much.
All the tutorials seem simple enough but this one focuses on one focal button and if you like big buttons as much as I do then this would be a perfect tutorial to use.
---
Button Keyrings
If bracelet wearing is not for you then this non-jewelry button tutorial comes from 'Sum of their Stories' for creating a variety 'Button Cluster Keyrings'.

Not all button making has to be jewelry. These clusters of buttons make for an interesting look and a great use for those left over buttons.

By using jumprings, a little chain you can have a selection of keyrings to choose from.
---
In Conclusion
I hope you found this as a fun distraction looking at some cute, easy and very affordable tutorial ideas.
Thanks for hanging out for a bit with me and celebrating 'National Button Day' with some creative folks out there sharing their passion for buttons and with me.
Just a few last things...if you are passionate about buttons then let me invite you to join my Pinterest 'Button Love' Board.
By requesting to be a part of the board gives you opportunity to post great finds and inspirational button projects that you find around Pinterest and want to share or remember for later.
I'd love to have you aboard. [no pun intended]
Just 'contact me' with your request and I'll take it from there.
If I may, allow me to share my favorite pin that started the entire 'button love' board.
This little gem of a project includes working with wire and buttons to create this super sweet 'Button Bicylce Pin'
Isn't that enough to make you fall in love with buttons???
Okay well maybe not but you have to admit it is cute.
Just a reminder that the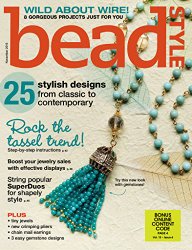 November Issue of BeadStyle Magazine is out on the stands.

Do you have your issue yet?

If not, then allow me to provide you a convenient way to get yours right on-line.

Following the link above will take you directly to Amazon.com. There you can pick up a subscription to this project packed beginner beading magazine. You'll never miss an issue with a full subscription.

If you haven't heard me say it before...this is my 'go to' beading magazine I recommend for beginning beaders and beyond.

There are always such inspiring and informational articles that I still enjoy each edition. Although I've been making jewelry for over 10 years it is still the magazine that I prefer.

Consider a subscription for yourself and see why...

BUT...did you also know that Bead Style Magazine has a sister publication that comes out the alternating months called Bead and Button Magazine.

This was the publication that I first started with. It also provides lots of great projects for bead weaving.

It's definitely worth a look, expand what else is out there and what imaginative creations are possible with both beads and buttons.

Now back to our original question we started with...
---
The Puzzle Tool Is???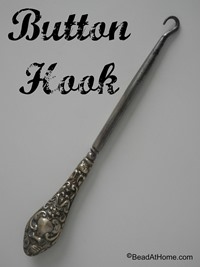 Well let me close for now but if you are still here did you answer the question at the top of the page?
So what is that unusual looking tool?
It's a button hook...
I discovered this little tidbit on this treasure I found in Mom's desk and then stumbled onto this article in my search for buttons.
A Visual Tour of Button History through the Ages
So there you have it...our version of National Button Day.
Enjoy it and let's hear from you if you take on any or all of these projects.
Keep talking to us, we're listening.
We'll talk again next month
And always remember... I have filled him with all kinds of skills to make artistic designs for work in gold, silver and bronze, to cut and set stones, to work in wood, and to engage in all kinds of crafts. Exodus 31:3-5
Beaded Blessings,
Betty Beader (a.k.a. Teri)
---
Disclaimer: Some of the links in this newsletter are affiliate links. If you click and purchase from these links we may make a small income from the purchase. This is how we are able to pay for our service to you at this time.
Thank you for your support.
---