Buy Basic Beading Tools?

Buy Basic Beading Tools...
Are you wondering where you might buy the basic beading tools we discussed? 
For the three basic beading tools I recommended we will discuss where you can find just what you need.
For your convenience I have provided direct links to each item if you would like to purchase directly on line and save yourself the time and trouble from searching for them.

Craft Stores, Bead Shops and more...
Beading tools are available to purchase anywhere beading supplies are sold and at the least there should always be the basic pliers: chain nose pliers, round nose pliers, wire cutters along with beading mats or a beading board.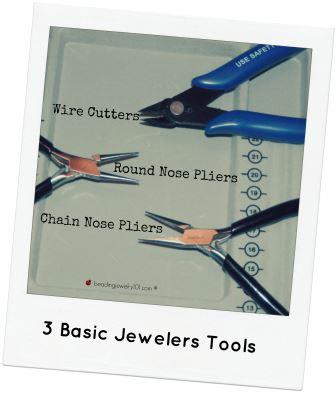 Other beading tools should also be available but that will depend on each supplier.
But again, at the very least the basic pliers should always be standard inventory.
The real key to be cautious of is...
...will they be quality tools?
We discussed quality traits to look for in your tools from the basic beading tool summary, if you have not read that yet consider reading it now before you go any further. Basic Jewelers Tools
In addition to craft stores, bead shops will also carry beading tools. But if you don't have any bead shops in your area and can not get to any craft stores conveniently then you other option is to buy on-line.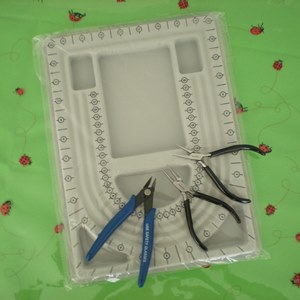 Now the market is wide open on the internet and everyone is working to earn your business. If you have time to visit different sites and shop their on-line store I encourage you to find your favorite.
If time is not on your side, or you are just looking for convenience so you can get busy beading, then allow me to send you directly to a good source that I turn to...Amazon.com.
As a service to you I have provided direct links to the exact tools that I recommend.
If you decide to buy from these links listed on this page please be aware that we receive a small portion of the sale.

The purchase helps to support this website and our time invested to help you get started.

Thank you for your consideration in supporting our work.
But the main reason for these referrals is to connect you with what I feel are the proper quality beading tools that I encourage you to begin with for your projects.

These are the exact tools that I have been using for years and they have served me and my students well. Believe me I have to depend on quality to hold up in class without breaking the budget.
Three Basic Beading Tools
These tools are moderately priced so it will make if affordable for you in the beginning and help with the upfront initial cost when buying your supplies.
There are different grades of tools out there, from the low end to the very high end.

I strive to advise you to stay in the moderate range and these Bead Smith beading tools are a very good quality at a moderate price.

If you should want to upgrade once you become more familiar with the skill set and decide in which direction you want to go with beading then I encourage you, by all means, to upgrade to a higher quality.
I have heard some good things about some of the higher grade brands. I personally have never found it necessary nor have I been willing to pay the higher cost for the type of beading I do.
But my objective here is to make this affordable for you without the frustration of poor quality tools.
That is why I recommend these listed here. So take a look and see what you think.

Other Handy Beading Tools
for the Beginner
In addition to the three basic tools there are just a few other items you will need as you work on your beaded jewelry.
You don't have to have these specific items listed here. You will probably have alternates around your house. But regardless take a look and you make your choice. You may eventually end up with these just for convenience sake in the long run.
I like using these and would encourage you at sometime to acquire these additional handy tools for yourself. 
Bead mat cushions your beads while you are working on them and keeps them from rolling away from you. Any cushioned surface will work. I like using these particular mats made of cushioned fleece much better than a felt pad. They don't peel and are machine washable. They stay nice looking and last a long time. I've had mine for about 12 years and they are finally reaching a point where they need replacing. Highly recommended and a great value.
Beading board is a convenient tool to have when laying out beading designs. The best thing I like about this is when I am working on a project and run out of time I can easily move the beading board with my in process project and store it on a shelf until I can get back to it. 
Bead stoppers are the handy clips that are used to temporarily close one end of your beading wire while making necklaces or bracelets until the clasp are attached. I have used alligator clips in the past, as pictured in the tutorials, but find these so much easier and give a stronger hold. 
Why Should I Buy These?
In the end the choice is yours whether you invest in these additional tools or not but they come with my recommendation to make your beading experience that much easier.
And that's what you're looking for?
Contact me and let me know how you like these or let me know if you find something you like better by leaving a product review for us all...We're waiting to hear from you.
Do You Have a Product Review to Share With Us?
If you have a review on a product then please share it with us now...We're waiting to hear.
home>basic jewelers tools>buy basic beading tools
Do you know someone who may benefit from this site? Then please share us with them.