Beading For Beginners
Beading for beginners may feel like a journey of a thousand steps but reality is there are only a few steps to learn how to make beaded jewelry.
Here is where your journey begins.
There are 3 things I want you to keep in mind as you begin this process.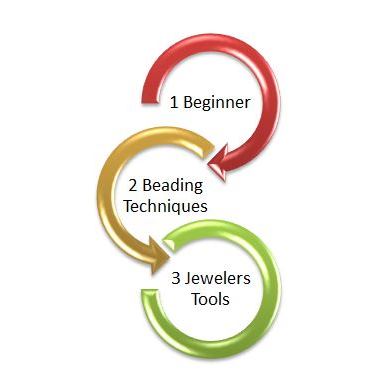 There is only 1 person in mind, that's you, the beginner, are the focus here.
I will be unfolding the 2 simple techniques, one at a time, that will get you stared with basic stringing while introducing you to just 3 basic jewelers tools.
This combined together will get you through the 'first' projects in this 'beading for beginners' section.
There is still much more to learn, but the basic is the start and it will anchor it all.
Overcoming Confusion & Learning to Focus:
Overcoming confusion and learning to focus will be one of your major task at the start. Take this in small segments following the steps provided for you.
Don't become so anxious to learn it all at once that it becomes too much.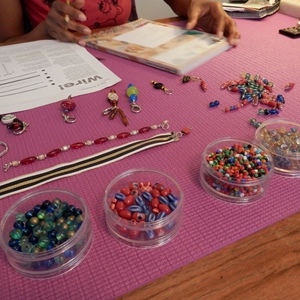 If you were in a classroom setting and I were your instructor then we would focus on just one topic, one project, covering all the information needed to complete that one project in a matter of two hours.
But we aren't. Here you have the freedom to roam at will. Bouncing from this topic to that topic.
I have tried to keep this 'beginning' section in an easy order for you to follow as though you were in a classroom with me, but in the end it's up to you how you process this.
Try to stay focused, but if confusion sets in then step back and take a breath.
Go back, brief over the page and then begin again or set it down and walk away coming back to it with fresh eyes when you are ready.
Re-reading information will reinforce what you have learned. The more you read the more familiar it will become to you.
| | |
| --- | --- |
| Beading Bits:  Focus is key. Written notes help reinforce. | |
If you come across something you don't understand along the way, write it down, make notes and contact me.
Let's begin by looking at...
What is Beading?
When first considering learning how to make jewelry the big question I asked myself was 'What is beading?' 
As a beginner you must first have a clear picture of the type of beading you want to learn and we will look at a variety of 'beading' methods.
This gives you a better idea and overview of how many different styles and methods of beading there are. 
We all start with a different perspective and understanding. You hear the phrase 'learn how to make beaded jewelry', you click on it but it is not what you expected or what was in your mind's eye.
My first thought when I heard that was stitching intricate beading on garments with teeny tiny seed beads and that was not what I wanted to learn.
Here we will break it down and summarize each method for you, clarifying the differences and giving you a sharper picture for you may be looking for in beading classes and instruction.
Once you work through this step then let's look at beading craft magazines and explore more publications.
Beading Craft Magazines
Learning from the experts in the field is the easiest way to get you started beading. You will find valuable information in these craft magazines. It's customary to find 'how to' books on any topic you want to learn about.
Different types of publications are available to you; variety of craft magazines, beading catalogs, bead books and bead blogs.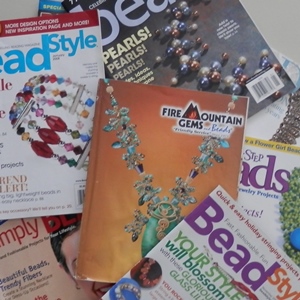 When it comes to finding the right beading magazines that help you, encourage you and inspire you as a beginner, ultimately will be your choice.  But where do you start?
Most stores with publication departments now carry beading craft magazines. It's become more readily available over the years.
Let's look at a few, talk about what they cover and how they may help you.  
Once you get here you are half way through.  When you're ready move onto beading supplies.
Beads and Beading Supplies
To begin any beading project you must first have an idea of what you are going to create, whether bracelets, necklaces or earrings. The next step will be to accumulate the beads and beading supplies to begin the project.  
But what supplies will you need?
Which beads and beading supplies are the exact ones to complete your particular project?
Let's cover just the basics about understanding beads and which supplies that you will use more often in the beginning.  
All beading projects require a specific list of supplies and the list will grow with your experience.
But this is the list of supplies that will be your 'go to' stash, repeatedly in the beginning.  These are your basics, your staple for all your beginning beading projects.
There will be 2 parts to Step 4.  
Step 4 Part 1: Beads and Beading Supplies. This introductory section will cover basic understanding of beads for the beginner.  We'll talk sizes, shapes, selection and more.
Step 4 Part 2: Jewelry Findings. Jewelry Findings are the beading supplies, the essence of all beading projects.  No piece of jewelry is made without using some type of jewelry findings.
We'll talk about what they are and what you need in the beginning to get your started beading.  
Once you have read through both parts of Step 4 then let's introduce you to the basic beading tools for beginners that are needed to use all these components you have just learned about.
Beading Tools
Tools are the back bone to any project.  In order to use any of the beading supplies discussed above you must have tools.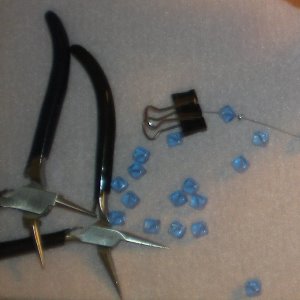 3 basic tools are the minimum to any beginning bead tool kits.
Read what each tool does and why each are so valuable in aiding you in making your bead projects.  
These will be your 'go to' tools time and time again, basic and beyond.
If you have made it this far then the bulk of your information is behind you.
How are you feeling?  Are you taking it in stride or are you becoming overwhelmed?  
It may not all make sense yet, you are putting the pieces of the beading puzzle together to get to the big bead picture.
Hang in there.  
Remember: How do you bake a cake? 
One ingredient at a time.
By now you should have plenty of questions your asking yourself and hopefully you have been writing them down. Keep those questions handy and check them off as you come across the answers.
Now let's move onto learning what the 2 simple beading techniques that you will be using. It's just 2, that's doable, don't you think?
Once you read through this last step then you will be ready to move onto the basic jewelry making classes. [coming very soon....I promise.]
Beading Techniques
Once you have familiarized yourself with beading supplies to make your jewelry and the basic beading tools needed for all your basic beading projects, now it's time to discover which techniques you will be learning.
Learning these 2 simple techniques will begin your path to many more creations.  Remember these are just the basics for bead stringing.
If you have reviewed over 'What is Beading?' then you know this is the main focus in our community of learning at Beading Jewelry 101, basic bead stringing.
Once you have that foundation laid then build on it. Your paths to learning different beading methods will be that much simpler and you'll have new doors you can walk through with more confidence.




Spread the Beading Bug...
If you have read my story of how I got started beading you'll find that my two main start up tools were beading magazines and a supply catalog from Fire Mountain Gems along with taking the time to digest it all.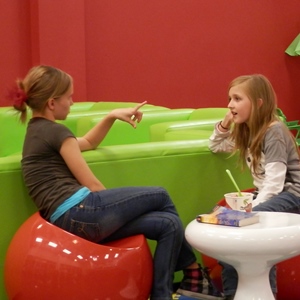 I share this information with you because I want to see you succeed.
I want to make this process easier for you at learning the basics than it was for me.
These are the steps I took and now I'm sharing them with you. 
I would encourage you to begin your process by purchasing a current BeadStyle magazine and ordering a Fire Mountain Gem free catalog as you digest all the introduction information provided for you at Beading Jewelry 101.
Allow time for all of this information to sink in.  I would be honored to carry you through this process of learning if you will allow me. Then I would ask if this does help you...then please share it with your friends.
Let's build this beading for beginners community to host many different beading buddies along the way to a greater journey of creation with our imaginations. I look forward to hearing from you.
Beading Terminology
I mentioned that you would be learning new words and beading jargon.
Beading terminology will help you in your learning process and you may have come across some new words by now that you have not encountered before. 
This resource page is a quick reference to words related to beading. Bookmark this page for quick and easy  reference. It is a work in process and continues to grow as this site grows.
If you see a word that was new and it's not listed at Beading Terminology let me know.  I appreciate the extra eyes and this community is for you so thanks.
Where Do You Go Next?
Here is your order of reading to get you started:
Now begin your beading for beginners journey with... 
...Get Started Beading.
Welcome aboard and happy beading!