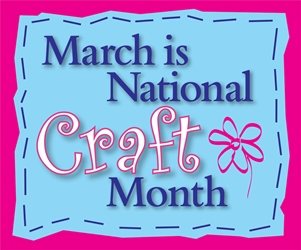 Engage in all kinds of artistic crafts.
Exodus 35:33
---

Week 3 -
Let's Wrap Up:
March 'Crafting' Madness
---
Hi again, this is the last weekly note I will be sending to share March National Crafting Madness Month...Thx for your patience and your indulgence in allowing me a little extra time with you.

Did you get any extra crafty projects done this month? If you did I would enjoy hearing about them and if you would like to share pictures then by all means please do.

To finish up let's look at...
One 'Crafty' Thing...
The one craft thing I wanted to share this week is actually a crafty site that I maintain outside of Bead At Home. It's an outlet for me to share about my other crafty interest.

Most folks like us don't just do one creative thing, we generally have several, (don't we?) so I wanted to create a home that I could talk 'all things crafts'.

This little hide-away is Momma's Pajamas. This week I just posted two fun little articles.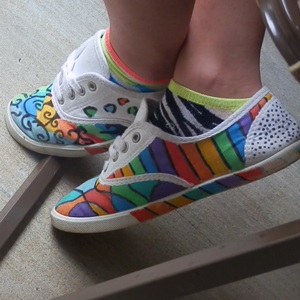 One is about a fabric artist that caught my attention of how she uses her skill set and renews old furniture in a very unique one-of-a-kind way. You can find it here...
Then the other article is a quick fun little tutorial for personalizing tennis shoes.
This is something my daughter has been doing for a couple of years and I just had to share it with you. You can see more on that here...
I hope you enjoy both of these little articles of crafting interest and find some inspiration in them.
Now for our...
Question of the Week...
For our final question of the week I'm going to turn the tables around on you.

I have been urging you to fill out the Beading Jewelry 101 Site Survey.

I bother you with this for a very good reason...to serve you better.

If you haven't taken the survey yet then I still encourage you to do so. It should take just a few minutes and I know our time is precious but be assured I appreciate the time you give me.

So for our question of the week I will share some of 'YOUR' answers to 'MY' questions about Bead At Home beading jewelry 101, as a quick summary.

From what I have heard in response to the questions posed to you, you like what you are finding here and you want to see more of it.

It's coming. I promise. As we speak.

There has been a majority that would definitely like to see beading kits available. It is on the planning table and I am hopeful to introduce first kits before summers end.

[Here is a little secret...they will be part of the 'My 1st Project tutorials' series, so there will be necklaces, bracelets and earrings to choose from that coincide with the picture tutorials already available.]

I hope you like the sound of that.

I will be working to have even more sets available before the end of Fall and just in time for Christmas. There is a lot of work ahead.

You have also told me that you learn best with written instruction with good vivid pictures. More are coming and it is my intent to also turn each picture tutorial into a video as well.

Which leads me to the last little tidbit...majority have said you would subscribe to a YouTube Bead At Home Channel.

This would be a free service to you. If you relate 'subscribe' to mean 'paid'...it doesn't.

Subscribing to a YouTube channel is equal to 'liking' a Facebook page. You are just supporting that specific channel with fans and followers. The platform is a free platform and that is what it will be to you...free.

Just as a side note though...YouTube pays attention to a channel's subscription audience...more on that another time.

After all, we have to save our money to buy more beading supplies...;)

Well it's been a good start to 2015 and there is still so much more of 2015 left which equals...a lot more work to be done to help you in your beading for beginners journey.
That's It For This Week...
Thanks so much for hanging out with me for these last three weeks to share together National Craft Month of March, the craft madness month.

The April newsletter will be out next Wednesday, April 1st and then it's back to focusing on getting more new info up and ready for you at Bead At Home beading jewelry 101.

If you haven't yet taken the survey, do me a big favor and go on over and take the site survey now. It will just take a few minutes, I really want to hear more of what you want.

I truly appreciate your time.

We'll talk again soon and remember...

Exodus 31: 3-5 I have filled him with all kinds of skills to make artistic designs for work in gold, silver and bronze, to cut and set stones, to work in wood, and to engage in all kinds of crafts.

Beaded Blessings,

Betty Beader (a.k.a. Teri)
---
---