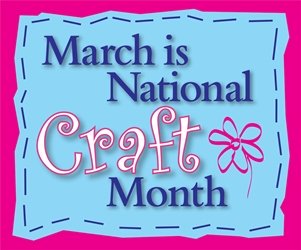 Engage in all kinds of artistic crafts.
Exodus 35:33
---

Week 2 -
We're Just Half Way
---
We are now half way through March, but there is still plenty of time to share in the National Craft Month activities and use it as an excuse to do some extra crafting this month.

If anyone should say anything about how much time you are spending crafting, beading or dwelling in your hobbies you have my permission to blame it on me...;)

Now let's look at our...
One 'Crafty' Thing...
Our one 'crafty' thing for this week is an article from Fire Mountain Gems about... The best earring style to fit your face shape.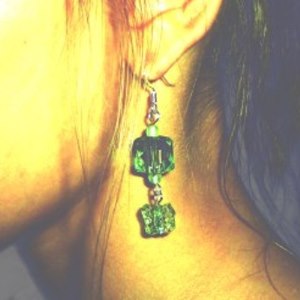 As you work more and more with earrings this is good information to incorporate into your designs.
If you sell you designs this would be a great marketing tool as well in helping your customer decide what will work best for them. It's called personalized customer service and it sells real well.
Do you know anyone who would not enjoy having that specialized treatment?
Be sure to share some of your creations that come from this valuable information.
Now for our...
Question of the Week...
Our question this week is...

I am interested in learning to make jewelry to sale. Do you have any suggestions on what I should focus on? Thank you for your help!...

A: Thank you for your inquiry, I appreciate you reaching out. Here is what I hear you saying.

Your initial statement has two separate items of interest.

1) You are interested in learning to make jewelry.

2) You want sell what you make.

You ask where to put your initial energy with your focus...

The very first thing I would recommend you focus on is learning how to make jewelry and reach the point with your skills that you are turning out a product that you would want to buy. That is the best approach with anything you want to sell that you are creating yourself.

'Would I buy this?'

Make that your first goal.

It should not take you too long given this type of beading is pretty straight forward, simple to learn and the results are easily attained for a good quality product. The key, I feel, are the materials you use.

[I am currently working on a full resource page of the beading supplies that I have found to be of a higher quality grade without breaking the bank. Hoping to have this page ready by our April newsletter so that I may share that link.]

Once you are ready to begin marketing your product I would encourage you to start with wearing your goods all the time and talk about it.

People will notice and they will ask.

There are several methods of selling jewelry so I would next encourage you to decide what method you might like to pursue, then research, research and research some more.

The lessons offered at Bead At Home beading jewelry 101 are the beginner steps and should get you started in learning how to make jewelry.

I hope this was of some help to you to get you started in this path of thinking. If I can be of any further assistance or you have additional questions let me know.

Best wishes in your endeavors and I know you can do it.

Beaded Blessings,

Betty Beader (a.k.a. Teri)
That's It For This Week...
Like I said these weekly mailings are just little snippets and will only be through the month of March. I will share one more snippet coming your way next Wednesday.

Be sure to share with us any additional crafty or beading projects you complete for the National Craft Month. We want to see...

Until next week remember:

Exodus 31: 3-5 I have filled him with all kinds of skills to make artistic designs for work in gold, silver and bronze, to cut and set stones, to work in wood, and to engage in all kinds of crafts.

Beaded Blessings.
---
---