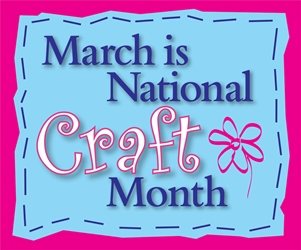 Engage in all kinds of artistic crafts.
Exodus 35:33
---

Did You Hear the News?
March is...
National Craft Month
---
What was I thinking?? [my mom would say, "You weren't."] Yeah, got it!
Boy did I really drop the ball...excuse me...drop the beads.
With your indulgence, I will continue the balance of this month by dropping you a line for the remaining Wednesdays with a mid-week 'crafty topic' sent to your in-box to enjoy our own special 'crafty month'.
Don't worry I won't make this a habit, it's just for this special occasion and I promise not to be long winded [for now at least ;)].
Wanna play along?
Then let's get crafting...
One 'Crafty' Thing...
Our one 'crafty' thing for this week is a... National Craft Month Tips Sheet from the Craft and Hobby Associations.

They provide a few good ideas to consider while you are crafting with beads making jewelry or whatever other type of craft you enjoy as well.

There is more to crafting then making jewelry, sometimes I don't think so but there really is.

The only other thing I wanted to share with you was a...
Question of the Week...
Since we last visited there have been some questions streaming in and so let's address a Question of the Week during our added visits for March.

Our question this week is...

Q: Where can I buy materials like beads, strings,and others...

A: It can all be very overwhelming in the beginning.

Let me first begin by asking you what hobby crafting stores do you have available in your area? That is the first place I would begin.

I have listed with each project the materials that you need to look for, refer to that for your shopping list.

If you do not have a good craft supply store in your area then my next best recommendation for you is to visit Fire Mountain Gems for your on-line shopping.

They are my favorite 'go to' on-line resource. They will have most everything you would be looking for with the exception of the 'SoftFlex Beading Wire' which I recommend to start with.

Hobby Lobby is my favorite brick and mortar craft store where I buy a lot of my supplies locally and they do carry Softflex beading wire. If you do not have a Hobby Lobby local in your area, you can now shop them on-line as well by following the link provided.

I do like going in the store in person so that I can touch everything...filling one of those creative senses.

But keep in mind, these are not the only two suppliers available.

I have a resources page that you can also refer to that has several of the suppliers I have used through the years listed.

[This is one of those un-tidy pages that is in process of getting cleaned up but the links should be good to reach any of the suppliers that you may like to visit.]

I hope this is of some help to you.

I look forward to hearing more from you and will be glad to help you with your further beading needs.

Beaded Blessings,
That's It For This Week...
Be sure to share with us any additional crafty or beading projects you complete for the National Craft Month. We want to see...

Until next week remember:

Exodus 31: 3-5 I have filled him with all kinds of skills to make artistic designs for work in gold, silver and bronze, to cut and set stones, to work in wood, and to engage in all kinds of crafts.

Beaded Blessings.
---
---